Tome 03 : The vampire Narcisse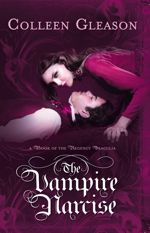 TITRE: The vampire Narcisse
AUTEUR: Colleen Gleason
EDITEUR: Mira
RESUME
Skilled in the seduction of men, both mortal and immortal, Narcise Moldavi is the greatest weapon in her twisted brother's war among the Dracule. Until she falls for Giordan Cale.
Her first searing encounter with Giordan seals their fierce connection for their eternal lives. But Giordan's vow to help Narcise escape her brother's rule is followed by a betrayal more agonizing than sunlight.
Wounded but determined, Narcise ensnares vampire hunter Chas Woodmore in her quest for revenge and to reclaim her life. He wants her, worships her, will kill for her. And the Dracule never forget a wrong— nor do they forgive.