Tome 01 : The vampire Voss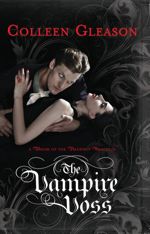 TITRE: The Vampire Voss
AUTEUR: Colleen Gleason
EDITEUR: Mira
RESUME
Voss, also known as Viscount Dewhurst, relishes the sensual pleasures immortality affords. A member of the Dracule—a cabal of powerful, secretive noblemen marked with a talisman that reveals their bartered souls—the mercenary Voss has remained carefully neutral…until Angelica.
Angelica Woodmore possesses the Sight, an ability invaluable to both sides of a looming war among the Dracule. Her very scent envelops Voss in a scarlet fog of hunger—for her body and her blood. But he is utterly unprepared for the new desire that overcomes him—to protect her.
Now Voss must battle his very nature to be with Angelica…but this vampire never backs down from a fight.