Tome 02: Midnight Brunch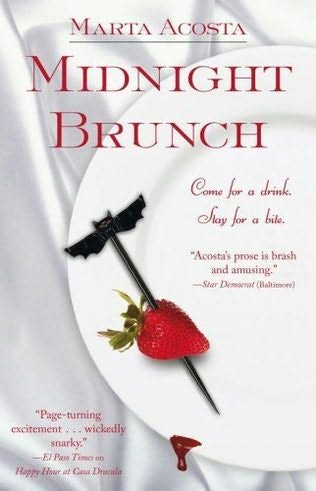 TITRE: Midnight Brunch
AUTEUR: Marta Acosta
EDITEUR: Inédit en français
RESUME
What's a girl to do when she discovers she's the main course on the menu?
Hip, funny Milagro de los Santos thinks she's finally found love and a home at the California ranch of fabulous Oswald Grant and his urbane relatives, who have a rare genetic disorder that some call vampirism. But Milagro is bewildered when she's excluded from an ancient and mysterious midnight ceremony whose participants include Oswald's unfriendly parents, a creepy family elder, and Milagro's ex-lover, the powerful and decadent Ian Ducharme. What skeletons are the vampires keeping in their designer closets?
When Milagro's life is threatened by a rogue family member, she flees to the desert to hide. Instead of solitude, she encounters an egomaniacal actor, a partying heiress, a sly tabloid reporter, and a lavish spa full of dark secrets — all of which might help her find a way home.